Upcoming Terms
Spring -> Children start now April 2nd in-person!
12 Saturdays: Youth / Kids in-person class April 2 – July 2, Adults in-person C1 level only April 2 – Juli 2, Adults remote March 26 – June 25
Time: adults 09:15am – 12:30pm (total: 36 h), youth / kids in-person 09:30am – 12:00pm (total: 30 h), kids remote 1 h (total: 12 h)
No Class: April 16, 2022 (Easter), May 28, 2022 (Memorial Day)
Youth / Kids Tuition: $190 remote, $315 in-person
Adult Tuition: $425 remote and in-person
Non refundable cancellation fee: adults $50, kids $20
Class Format
We are conducting classes online over Zoom (https://zoom.us) and in-person.
We do resume in-person classes for Children (Youth and Kids) and Adults level C1 at:
First Unitarian Church of Dallas
4012 St. Andrews Dr
Dallas, TX 75205
Common Questions
When is are the next trimesters?
Adult and Kids virtual summer camp: July 9, 2022 – August 13, 2022
Fall Term: Sat Aug 20, 2022 – Sat Nov 12, 2022
Winter Term: Sat Dec 3, 2022 – Sat Mar 11, 2023
Spring Term: Sat Mar 25, 2023 – Sat Jun 24, 2023
Fall Term: Sat Aug 23, 2023 – Sat Nov, 2023
What is an A1, A2, B1, B2, C1 and C2 level?
Our course system is based on the six levels defined in the Common European Framework of Reference for Languages (GER).  This means that the language skills you acquire in our courses can be measured objectively and are internationally comparable.
How do I know which level I am?
If you are NEW to our language program, please take a Placement Test* and send the pdf result to [email protected].
Which text- and workbooks are you using?
Level A1, A2 and B1 we use books of Hueber (www.hueber.de) – Schritte international neu – (edition 6 books = 42 chapters).
Level B1+/B2 and C1 we use books of the publisher Cornelsen (Cornelsen – Weitblick)  or Klett (Klett – Aspekte neu).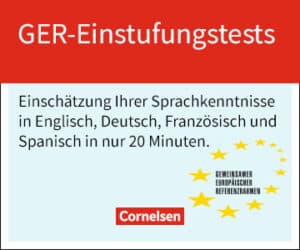 * Placements tests provided by the German book publisher, Cornelsen.