The winner of the 2023 Nora T. Collins Scholarship has been decided!
Congratulations to Theodore Batty of Bishop Lynch High School in Dallas who is the recipient
of the 2023 Nora Tamara Collins Memorial Scholarship (NTC) for High School Students of German.
Theo has been for over three years in the German classes of his teacher Beth Burau and was a senior
n her AP German IV class. He has a passion for history and his cultural interest in Germany and the
language stems from having German ancestors and being fascinated by the geography of the country.
The NTC Scholarship was established by friends and former students of Nora Tamara Collins to honor
the memory of this inspired and gifted teacher of the German language.
Congratulations again, Theo, on this great achievement!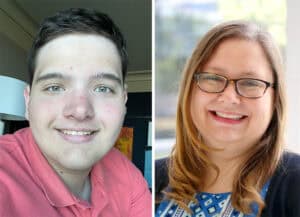 Winner of the 2023 NTC Scholarship Theodore Batty and his teacher, Beth Burau