Upcoming Term
15 Saturdays: August 19 – December 16

Time:
Adults in-person 9:15am – 12:30pm or 1:00pm – 4:15pm (45 hours)
Adults online 9:15am – 12:30pm (45 hours)
Youth / Kids in-person 9:30am – 12:00pm or 12:30pm – 3:00pm (37.5 hours)
Youth / Kids online (15 hours)
No Class: September 2 (Labor Day Weekend), October 14 (Fall Break), 25 November (Thanksgiving)
Youth / Kids Tuition: $238 online, $394 in-person
Adult Tuition: $532 – Returning Students: $500
Minimum number of participants per course: 5
Non refundable cancellation fee: adults $50, kids $20
German Häppy Hour:  We open our Zoom for you – meet learners of the DGC and chat with each other 
Time: Every Wednesday during the course from 8pm – 9pm
Tuition: Free
Course Format
We are conducting courses in-person, hybrid synchronous, and online courses over Zoom (https://zoom.us).
In-person and hybrid synchronous classes take place every Saturday at
First Unitarian Church of Dallas
4012 St. Andrews Dr
Dallas, TX 75205
Online classes usually take place every Saturday.
Information for your class:
What is an A1, A2, B1, B2, C1 and C2 level?
Our course system is based on the six levels defined in the Common European Framework of Reference for Languages (GER).  This means that the language skills you acquire in our courses can be measured objectively and are internationally comparable. A is beginner, B Intermediate, C Advanced.
How do I know which level I am?
Complete Beginner or never attended a German language class or your last class is longer than 5 years ago? -> A1.1 beginner is your class!
All other new adult students please take the time and do a Placement Test* and send the pdf result to [email protected]. Please make sure you do not use dictionary, smartphones etc. for this placement test. You can only take this test one time. A Goethe-Zertifikat issued within the last 12 months may also be accepted as proof of proficiency.
A verbal assessment with one of our instructors will take place Thursday evenings before each term via Zoom. Placement in a particular course level is based on the results of the placement test, which includes both an online written portion as well as a verbal assessment.
Is there an assessment test at the end of the semester?
At the end of the term, we will administer an assessment (at the moment for levels A1, A2 and B1) to see if you will advance to the next level or continue at the current level. We want the courses to be most beneficial to you. Remember, the work you put in outside of the classroom has an huge impact on your personal progress.
Is there a textbook and how do I get one?
Yes, there is a textbook for each level.
Textbook: A 1.1 + A1.2 | A2.1 + A2.2 | B1.1 + B1.2: Das Leben – Cornelsen
Glossary booklet: A1| A2 | B1: Glossary download
The glossary is also available in printed form.
B1+/B2 and C1: Cornelsen – Weitblick B1+ und B2, Cornelsen – Fokus Deutsch C1 or Klett Klett – Aspekte neu.
Digital version Weitblick Cornelsen: (E-Book – Weitblick B1+), (Weitblick B2.1)
Digital version Fokus Cornelsen: (E-Book – Fokus Deutsch C1)
Please order your book and glossary with your registration ($39 extra – Das Leben – only!) or call internationaler Buchversand IBIS to order your course material, phone: 800 277 4247.
Is there are learning platform included in the course?
Yes, levels A1, A2 and B1 use Canvas.com and Nearpod for homework and assessments.
Learn faster by chatting with a tandem partner!
Is there a minimum number of participants per course?
The minimum number of participants is 5. If this number is not reached, the course will not take place as a consequence. In such cases, we will do our best to offer you an alternative in good time. If you do not want to accept the suggested alternative, any payments already made will be promptly 100 % refunded!
General terms and conditions:
Students who enroll in any course that requires prior knowledge of German (i.e. any course with a level higher than A1.1 or A1) must demonstrate sufficient written and spoken proficiency at the required level before the start of the course (written and spoken placement test). New students, as well as returning students who have not taken a course with the Dallas Goethe Center within the past 12 months, are required to complete a written and spoken placement test before the start of their course. A Goethe-Zertifikat issued within the last 12 months may also be accepted as proof of proficiency at the discretion of the Language Course Office.
Returning students who have taken a course with the Dallas Goethe Center in the past 12 months will be admitted upon the approval of their most recent instructor. If the most recent instructor does not agree the student meets the proficiency requirements for the course, a written and spoken placement test will be required as a condition of admission.
Students who fail to meet the above stated requirements by the start date of their course will not be admitted, and may request either a full refund or a rebooking to a different course.
Students should consider their personal commitments and circumstances before enrollment, as our policies are necessary to ensure the success of both our students and instructors.
Discounts: Students with an exceptional financial hardship can make a request to [email protected] for additional consideration.
In the event that a class has to be cancelled due to inclement weather or instructor illness, we will inform you by email no less than 3 hours ahead of the scheduled meeting time. A cancelled class will be made up prior to the beginning of the following semester at a time/date determined by the instructor.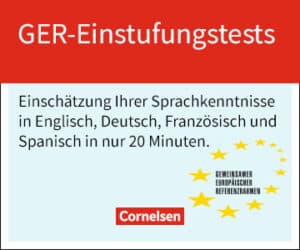 * Placements tests provided by the German book publisher, Cornelsen.